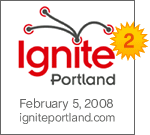 Woo! I sent my slides off for my Ignite Portland 2 talk this afternoon (late, sorry). Assembling the twenty slides for my presentation took nearly 6 hours. You see, at Ignite the presenter has no control over the pacing; therefore, knowing exactly what you want to say and when is very important. And that takes time.
If you are unfamiliar with Ignite the presentation format consists of 20 slides that automatically advance every 15 seconds. Result: a 5 minute talk. This style of presentation is also known as pecha-kucha which is Japanese slang for chatter. My friend Ron sent me some great background articles if you are interested: here and here.
I am going to be giving a presentation on the high school robotics program known as the FIRST robotics competition. The story will be rooted in my experience mentoring Meeks Technical Team 2411
If you are free Feb. 5th come and see me and the other 13 awesome presentations! Arrive early too because hundreds of others will be swarming to get in.
Tuesday, February 5 6:00 pm to 9:00 pm (doors open at 5:15 pm) Bagdad Theater 3702 SE Hawthorne Blvd Portland, OR 97214 Admission is FREE Please RSVP